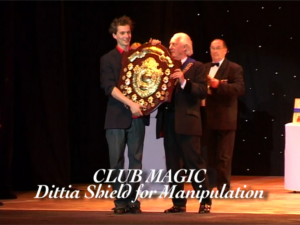 Andrew is a British magician and winner of Dutch tv show 'The New Uri Geller'; the contest lasted over 3 months and was watched by millions of viewers.  In the Summer of 2012 he was proud to have represented England in Fism (World Championships of Stage Magic) in Blackpool.  Since then he has been working on many tv shows such as for 'The Grand Show' in Turkey and more recently for 'The International Arts Festival' on Chinese Central television.  Andrew was also one of the headline acts at Glastonbury Festival, Summer 2014 & 2015 & 2017 performing 6 shows and was featured in 'Glastonbury Festival of Contemporary Performing Arts Magazine'. In 2017 Andrew performed over 150 spectacular illusion shows (equipped with dancers and glamorous assistants) at top Dutch theme park, Duinrell.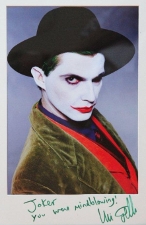 He has been performing stage and close-up m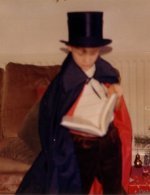 agic for over twenty years. He joined the British Junior Magic Society at 6 years old, successfully passing the audition two years premature – the rule book states that members need to be at least 8 years. From here at age thirteen Andrew was accepted into the Wolverhampton Magic Circle and later was welcomed into the International Brotherhood of Magicians.
A graduate in psychology 2002, he went straight onto working as a full-time professional magician in Amsterdam and works across Europe frequently.
Andrew is also European Champion of Magic. In September 2007, he entered his first magic competition…The International Brotherhood of Magicians Annual Stage Competition. He won his category for Manipulation receiving The Dittia Shield & achieved another award called The Theo Speaker Cup in the overall stage contest.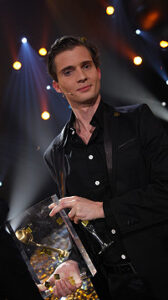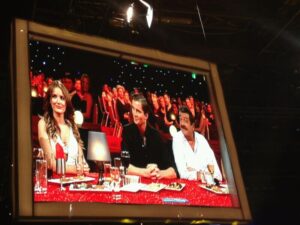 For several years now he has worked with Dutch magician/choreographer Ger Copper; former World Champion and coach for Hans Klok. Andrew hosted his own show for one year at the club-theater 'Sugar Factory', resident magician at Holland Casino for six years, has worked regularly at 'The Comedy Theater' & 'Boom Chicago Comedy Club', and has performed for millions of viewers on various tv channels, predominantly SBS 6. Andrew has performed magic for a variety of V.I.P's including Ronnie Woods, All Saints, The Mayor of Amsterdam and numerously for the British Ambassador and embassy patrons. His list of corporate clients is extensive to say the least.
Andrew is a successful inventor of magic- his popular effect called The Box of Fear; is sold by magic shops world wide. He is also a lecturer of magic.
No matter the location or event, Andrew adapts with visual illusions, comedy and magic to captivate his audiences – these visual effects work well if he is performing in a loud environment or if his audiences' native language is not English. Stand-up Comedy Show, Stage Illusion Show, Table Magic, and Kids Shows… are the various acts available custom fit to suit any event, anywhere.
Click here to view online/download current CV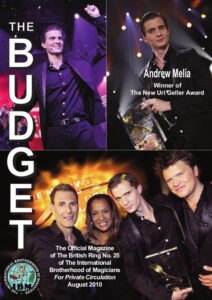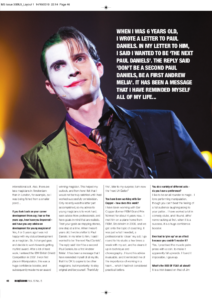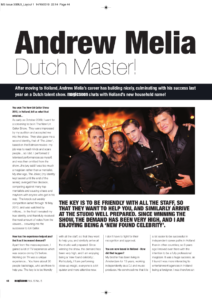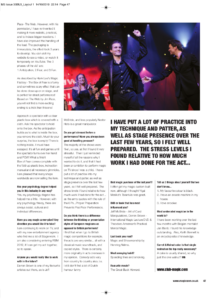 Clientele
TELEVISION & RADIO
A1 TELEVISION, Magic illusions & interview for youth tv program, televised for Zoom TV, Hervormd Lyceum Zuid, NL, & Nutty Anitas Comedy Night in Amsterdam filmed on 05.02.15.
BBC 2, Glastonbury Festival 2014, 6 shows 'Theater & Circus', recording for closing credits shots on 30.06.2014.
BEAT THE BEST, RTL4, Plasma Screen Act & profile with interview on 15.09.12.
BNN VARA, Pilot episode of candid camera style magic, aired on 23.08.14.
CHINESE TV (CCTV), 2 Illusion shows recorded on 26.07.13.
DE NIEUWE URI GELLER SHOW, 05.02.10, 12.02.10, twice on 26.02.10 & 05.03.10, 19.03.10, 02.04.10, 09.04.10, 16.04.10, 30.04.10, 07.05.10, 14.05.10.
HARPER'S BAZAAR, VIP and celebrity magic at Royal Tropical Institute, inc. trick recorded for tv with Matthijs van Nieuwkerk, with Zie nl, 25.08.14.
KRO-NCRV TV, Celebrity magic at Hilversum Studios, 14.12.15.
MTV, Ema Awards Amsterdam 2013, VIP party at The Dylan on 10.11.2013.
POPSTARS, SBS6, 3 pre commercial acts and a 5 min closing act for an all time highest recorded number of viewers, 29.01.10
ROBERT JENSEN (Radio), phone-in for 'How Andrew does his tricks', Spring 06, NL.
RTL, Magic for Dutch TV station, 07.10.06, Texel, NL.
RTL4, CQC, Guest appearance on 01.03.10.
RTL8, Beat The Best, Interviews & Stage Illusions on 22.09.12.
SHOWNIEUWS, SBS 6, interviews & guest appearances on 11.02.10, 05.03.10, 28.03.10, 07.05.10, & both early & late night shows on 14.05.10.
SEVEN MAGIC IN THE CITY, Tv Promo made by Just Productions, recorded in Aug 2014.
SHOW TV, The Grand 'EN BUYUK' Show, 2 Parlour acts and 1 Illusion Show for Turkish television, recorded on 11.10.12.
TELE 2, Shows, walkaround, workshops, 05.10.06 & 29.02.07, Marinhof, NL
TRANSISTOR RADIO, Stage show for broadcast, Aug 02, The Winston, Amsterdam.
TV LAB, NPO3, Live tv show and interviews in the DutchView studios, 24.08.14.
UNIVERSAL MUSIC, Magic for Theo Roos and RTL 5, Feb 04, Amsterdam.
VARA TV, Magic with Matthijs van Nieuwkerk, Edel Amsterdam, 11.01.14.
VERONICA, LIFE FOR YOU, Guest appearance on 21.02.10.
WINKELWAGENSHOW, Guest interview on radio show broadcasted across 4 countries and 51 stations on 23.06.10.